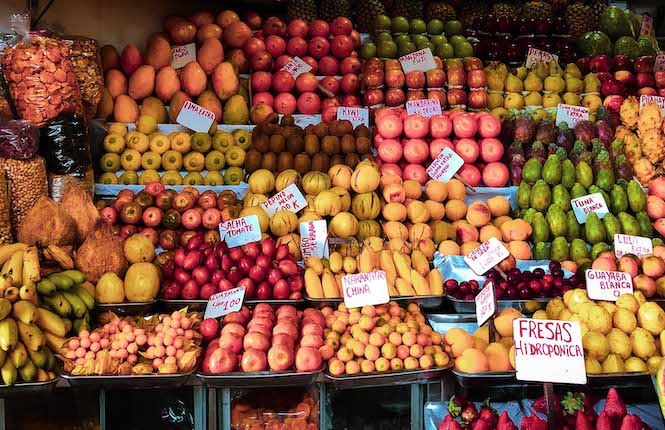 Madrid's Markets – Madrid's best markets
Take advantage of your stay in Madrid to visit its different markets. Whether you want to eat, go hunting, taste tapas or buy fried food, Madrid has many markets. The best Madrid's markets in are the San Miguel and Mercado de la Paz market for tapas, the San Anton, San Ildefonso and Platea markets for food and drinks, the Cebada market to buy fresh food and the Rastro market to go shopping on Sundays.
The San Miguel market is located in the heart of Madrid's tourist centre, in the Acacias district and only a few minutes away from the famous Plaza Mayor and Calle Mayor.
It is one of the markets in Madrid where you can taste Spanish gastronomy.
Inaugurated in May 1916, it attracts nearly 10 million visitors every year. Tapas market par excellence you will have a great time there.
Its modern, metal building houses more than 30 stalls offering quality raw materials and fresh tapas. It is one of the most beautiful markets in Madrid and is without a doubt the best market in Madrid.
It is the ideal place to taste local products or simply share a drink in one of its few wine bars.
The highlight of the San Miguel market :
There's something for every taste, budget and hunger. Listed as a UNESCO World Heritage Site since 2000, the San Miguel Market also became the first gastronomic market in the Spanish capital in May 2009, making it a must for lovers of tapas and Spanish gastronomy.
However, it is not only a meeting place for gourmets. Depending on the season, visitors also go there to take part in traditional and cultural activities (courses, exhibitions, presentations…), ideal for learning the best recipes of Spanish gastronomy.
Opening hours of the San Miguel market:
Regarding the opening hours, the market is open 7 days a week until 1 am on Friday and Saturday. On the other days of the week, it closes at 00:00. The place is generally very crowded at the weekend around 4pm.
Go to the market of San Miguel:
You can get there by metro, bus or train via all lines and routes with stops nearby.
– Metro: M-1; M-3; M-5.
– Bus: 133; 146; 147; 52; 23.
If you prefer to eat in a more cosy and quiet environment you will find many Spanish restaurants nearby, especially on Calle Mayor.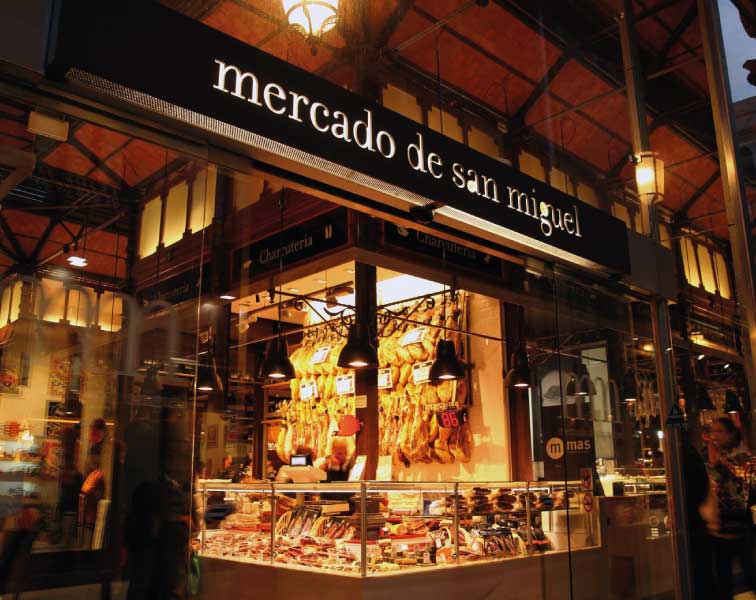 San Miguel market – covered market madrid
San Anton Gastronomic Market
Located in the Chueca district, the San Anton market is a chic and modern place where you can taste Spanish gastronomy.
Spread over three floors, the San Anton Market is one of the most beautiful markets in Madrid. Thanks to its geographical position, its fresh produce and its rooftop it is one of the best covered markets in Madrid.
The ground floor is exclusively dedicated to the sale of fresh products and necessities, while the first floor is dedicated to prepared dishes and tapas. If you are looking for a tapas market in Madrid this is the place to go!
Through different stands, try and enjoy a variety of tapas (cold meats, fish, local cheeses…) from different countries and regions. You will also find a small gallery for temporary exhibitions and various art workshops that vary according to the time of year.
Every Wednesday evening, you will be able to attend a small free concert. Special mention should be made of the view from the lower level, which is not the least pleasant.
On the top floor there is a restaurant with a large terrace.
The concept of this one stands out for its originality. Forget the à la carte menus, select only the food you want to eat…the rest they take care of!
In fact, after going round the market, go upstairs and entrust your purchases to the chef who prepares the dish at the customer's request. It is possible to reserve a table, but we advise you to book in advance as the seats are very popular.
San Anton market opening hours:
The market is open from Monday to Sunday from 10 am to 8 pm.
Go to the covered market in San Anton:
To get there, you can take the subway line 5 and get off at "Chueca" station.
You will find many Spanish restaurants near the San Anton food market in the Chueca district.
Are you going to visit Madrid and would you like to have a unique tapas tour experience with an English speaking guide? Book your tour now.
San Ildefonso gastronomic market
The San Ildefonso food market is a street food market, a trendy concept found in major capitals such as London, Bangkok and New York.
The idea? An array of tapas stands, colourful drinks and a warm atmosphere. It's Madrid's trendiest and cheapest covered market to eat street-food style while discovering Spanish gastronomy.
Unlike its counterparts, the San Ildefonso market does not offer food for cooking, but only food and drinks prepared on the spot.
This hype and atypical place is the meeting point for chatterers who love tinto de verano. Chandeliers, brick walls and metal railings, this underground-looking market is ideal for strolling.
Spread over several floors like the market of San Anton, you will find on the top floor a terrace and a cocktail bar that opens its doors at 7:30 pm.
San Ildefonso market opening hours:
The San Ildefonso market is open from Monday to Sunday from 12 noon to midnight.
Go to the covered market of san Ildefonso:
It is only a 2-minute walk from the "Tribunal" subway stop, accessible via line 1. The market is located next to the Superdry store.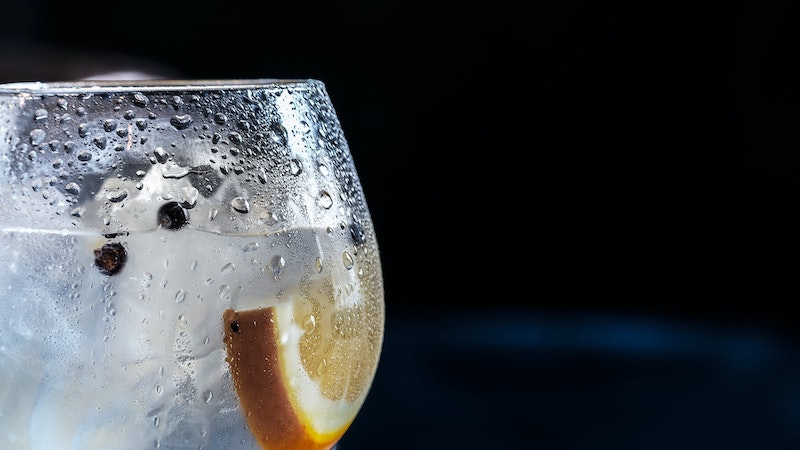 Madrid Markets – Madrid's best markets
Located in the Latina district this covered Madrid's market is an institution for many Madrileños.
Ranked as one of the best markets in Madrid for some and among the most beautiful markets in the city, it is essential to pass through this market during your stay in Madrid.
Opened in 1875 it was for a long time one of the main covered markets of the city, it is currently open but does not offer as many products as it used to.
Recognisable by its colourful façade, it is located very close to the Latina metro station. If you visit the Rastro market on Sundays you will have to take a few more steps to get there.
Ideal to bring back souvenirs and introduce Spanish gastronomy to your family, friends and colleagues.
If you wish to eat near this market you will find many Spanish restaurants nearby and a very good tapas bar.
To discover this covered market in Madrid take the metro to Latina station. It is also possible to walk there from Plaza Mayor or Puerta del sol.
Cebada market – Madrid's market
Chic and gastronomic market: Platea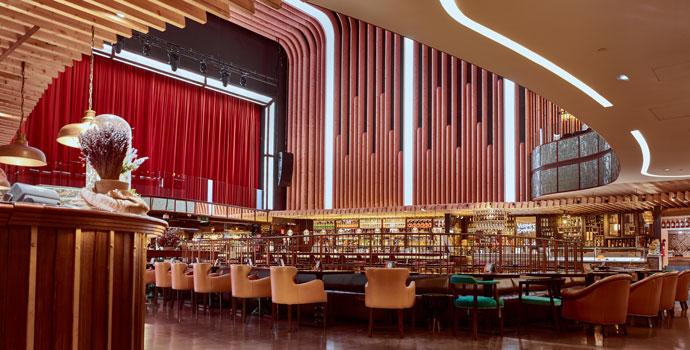 Platea – Spanish gastronomy
It is in the chic district of Madrid that you will find this timeless space.
Platea is a unique place in Madrid where you will live an exclusive taste experience.
It is the most beautiful market in Madrid. Located in an old theatre it will transport you to a Parisian cabaret atmosphere.
Enjoy a show while tasting Spanish gastronomy with friends and family or with your colleagues on a business trip.
For more information on the program of shows do not hesitate to visit their website.
A different experience in one of the most luxurious markets in Madrid.
Located in the Salamanca district, this covered market in Madrid is very little known to tourists. Ranked as one of the best markets in Madrid by many food critics, this covered market will immerse you in the Spanish atmosphere and make you discover new flavours.
Take advantage of this opportunity to buy some of the products of Spanish gastronomy to make your friends taste it when you return from your holidays.
This hidden covered market is located in Calle de Ayala, 28B, 28001 Madrid.
The madrid flea market : El rastro
After its creation at the beginning of the 15th century, the flea market in Madrid was a great success.
The Rastro market is now one of the oldest in the capital, and is an essential market for buying clothes, fancy goods and antiques.
Known for its traditional and popular side, the flea market of Madrid is held between the streets of Embajadores, Toldedo and Ronda de Toledo, in the district of La Latina not far from the market of the cebada.
It is the favourite place for the curious and early risers on Sundays and holidays.
Find more than 1,000 vendors and craftsmen offering all kinds of items: books, jewellery, clothing or vintage records.
For the record, Madrid's flea market owes its name to the many tanneries that were nearby at the time.
Once out of the slaughterhouses, the animal skins were dragged on the ground before being worked, causing many traces.
An explanation that makes sense when you know that "Rastro" means "trace".
Of course, you can also enjoy tapas & cervezas. It's very easy to get to know the shopkeepers and talk to them.
Rastro market timetable
The Rastro market is held every Sunday and holiday from 9am to 3pm.
Go to the flea market in Madrid :
It is easily accessible by metro lines 1, 3 and 5 via the following stops: "Tirso de Molina", "Embajadores" and "La Latina".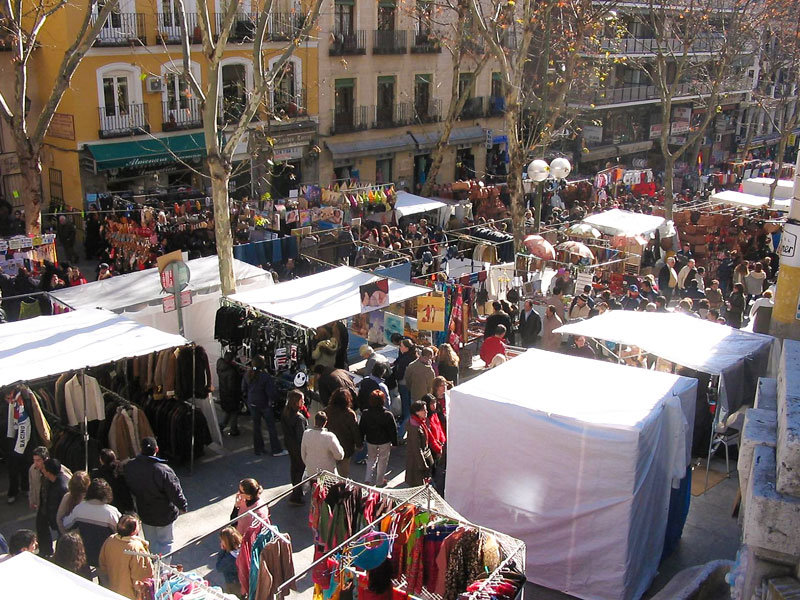 Green & organic Madrid's Market
We couldn't close this post without telling you about Madrid's ecological and organic markets.
Ecology is a subject that is at the centre of the strategies taken by the Spanish government.
Eat better, pollute less or switch to electricity are the main objectives of Madrid.
Many organic shops are opening their doors in the capital whether it is in Malasana, Goya or La Latina, each district has its own organic shops and markets.
El huerto de Lucas is part of these projects and improving the lives of the people of Madrid. If you would like to take a trip to this peaceful place full of good things then go to the Chueca district.
Address del Huerto de Lucas: Calle de San Lucas, 13, 28004 Madrid
Madrid's municipal markets
You can find many municipal markets in Madrid. Each district has its own market and the quality of the products is there. If you come to live in Madrid and you are used to fresh markets then you will not be disappointed and will find your happiness in the Madrid's market.
Do not hesitate to contact us for more information about the markets in Madrid! To receive news from Madrid Discovery and stay up to date with Madrid's latest news, subscribe to our newsletter now.
To contact us: info@madrid-discovery.com
Live the gastronomic experience in the markets of Madrid.