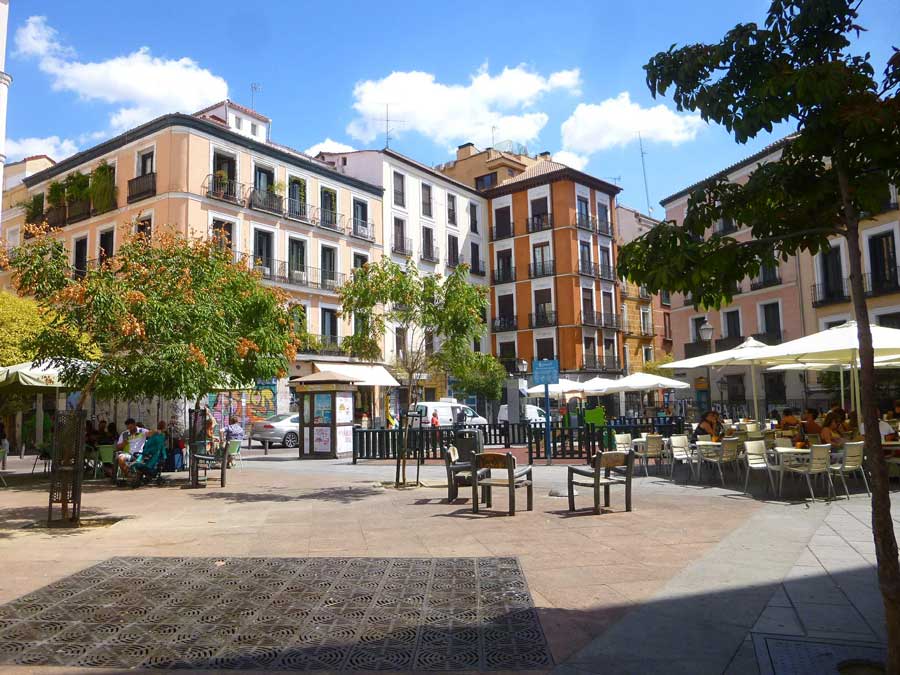 The malasana neighbourhood is one of the most popular places in Madrid, a place to live, shop or go out, where you can gather and have a good time with your family or friends.
Emblematic district of Madrid both by its history and by the different cultural movements that have emerged there, malasana neighborhood has become over time a unique and authentic neighborhood not to be missed during a stay in Madrid.
In love with Madrid and passionate about its history, we have decided to write this post to tell you more about this district so emblematic of our beautiful city Madrid.
You are probably wondering :
Why does malasana neighborhood have this name? Why is the 2 de mayo square so important? Who is Malasana? What to do in Madrid? Where to eat in Malasana? Where can I go shopping?
We hope that this guide to the malasana neighborhood will help you prepare your stay, if you liked it don't hesitate to tell us on our social networks and share the article around you.
Malasana's story
Before introducing you to the modern malasana neighborhood, it is interesting to start by telling you the history of this district. Discover the life of the alasana district right now to become a schoolteacher in the trendiest district of the capital.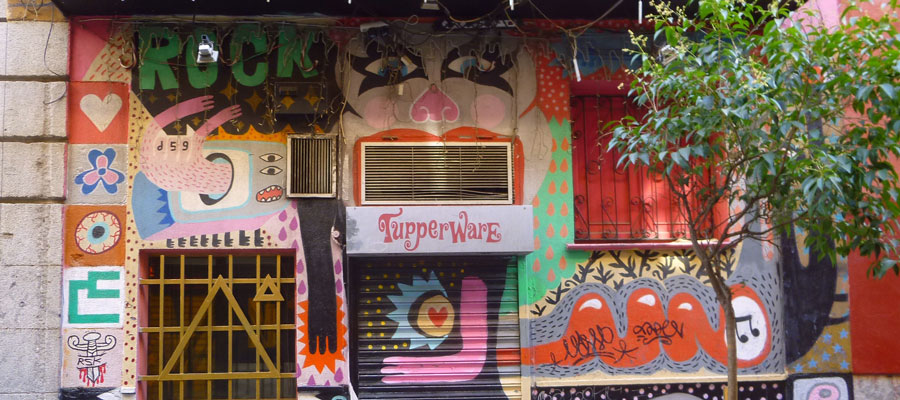 malasana neighborhood
La movida and Malasana neighborhood
The movida is a cultural movement that followed Franco's dictatorship in the 70's, unique in all Europe it was at this time that Spain freed itself from its chains and discovered the world.
Malasana neighborhood was the cradle of this movement with famous bars and still famous for their parties and big parties.
The modern Malasana
The malasana neighborhood is the perfect place if you want to spend a shopping day in the capital.
After this section you will find a guide to spend an ideal day in Madrid.
Discover or go shopping in Madrid, or drink a cana, the rooftops of the neighborhood or the best restaurants in the city.
Shopping in Malasana
Once you're in this beautiful neighborhood, you'll be able to feel the hipster atmosphere.
Fashion in Spain is very present and you won't be disappointed when you see the numerous thrift shops, in total you will find no less than 15.
Each one has a particular style, with pieces coming from the US, France or Spain. One of the most famous is the flamingo where you will be able to buy a lot of clothes and finally pay by weight. A concept that is very popular with Spaniards and that does not leave indifferent every traveller passing through the malasana neighborhood.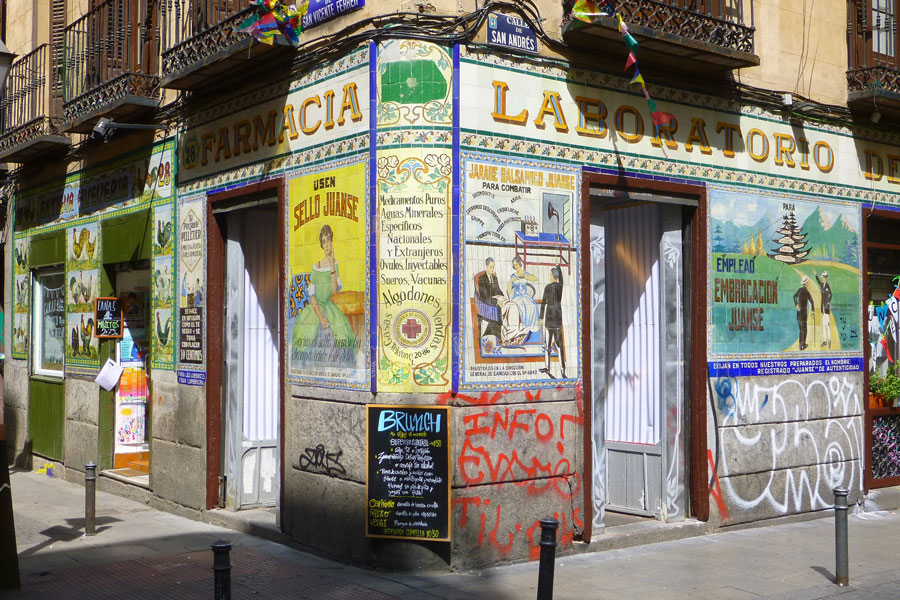 malasana neighborhood
drinking beer in the malasana neighborhood
Malasana neighborhood is also and above all a place where you can meet with friends to enjoy tapas around a cana. Spend a real moment in Spanish "tapar" from bar to bar.
You'll find the best bars in the area in plaza del 2 de mayo where beers and glasses of wine are usually less than 2€.
A list to make your cana break a success:
La Bicicleta, A bar for bicycle lovers, atypical and warm, this bar will transport you in less than a few minutes in the Spanish atmosphere!
Ojala, If you have to choose a bar in malasana it will be this one. A bar with three different atmospheres, a terrace or in the sun, a flowerpot where you will eat between the plants and finally a travel atmosphere with a basement full of sand, enjoy a break with your feet in the sand!
Pepe botella, One of the mythical bars of Malasana, located near the Plaza del dos de mayo this bar has taken the nickname given to Napoleon's brother "pepe botella". This goes back to the time when Napoleon's brother was governor of Madrid, he decided to make decrees on the sale of alcoholic beverages and was caricatured by the artists of the city that gave him this nickname. For the most curious we suggest you take a trip to the Museum of History of Madrid where you will find the original drawings of the caricatures of "pepe botella".
Lunch and diner in the malasana neighborhood
Malasana neighborhood is also the place to enjoy tapas with friends and dine in small restaurants.
You will find a great diversity and will be able to taste a simple tapas to a Greek dish through a Mexican dish.
Here is a list of our good addresses:
Another great place to enjoy good food: Ojala, if you want to eat with your feet in the sand, on the terrace or in a greenhouse. A very popular place in Madrid and often sold out, especially when the sun makes its first appearances.
To taste many styles of cuisine you will find the market of St Anton. A delight for gourmets and foodies from all over the world.
The Fuencaral street will plunge you into a gustatory broom.
Our good address:
Lateral, present in several districts of Madrid, is a sure value in terms of tapas.
We recommend the pincho de tortilla! If you liked this restaurant we advise you to find the different restaurants in Madrid.
Saporem, a restaurant hidden by a rather banal facade, entry into a world where you will be cut off from the world, an atypical decoration awaits you and delicious dishes to enjoy with friends or family.
If you prefer Mexican food, we suggest you take a street tour where you will find a typical Mexican restaurant. Get into the atmosphere and taste a real michelada!
A restaurant not very touristy, but just as delicious, … this Japanese will make you travel through its thematic rooms, attention, if you want to eat there try to book in advance to have a table. The ramens are delicious !
Eating a hot dog on the go, a crazy street food style restaurant is waiting with their delicious perros calientes !
Malasana neighborhood & LGBT experience
The malasana neighborhood is located right next to the famous chueca neighborhood, where you will find many famous addresses of the LGBT community. If you want to have a list of gay experiences to do in Madrid don't hesitate to take a look at our LGBT guide.
Going out and meeting people in the malasana neighborhood
Malasana is a party place. Party again, relive the movida and dive into the authentic Madrid during your stay. This is the bar not to be missed at a party in malasana.
La via lactea: a bar well known to Spaniards and famous for its concerts and the personalities who have frequented it.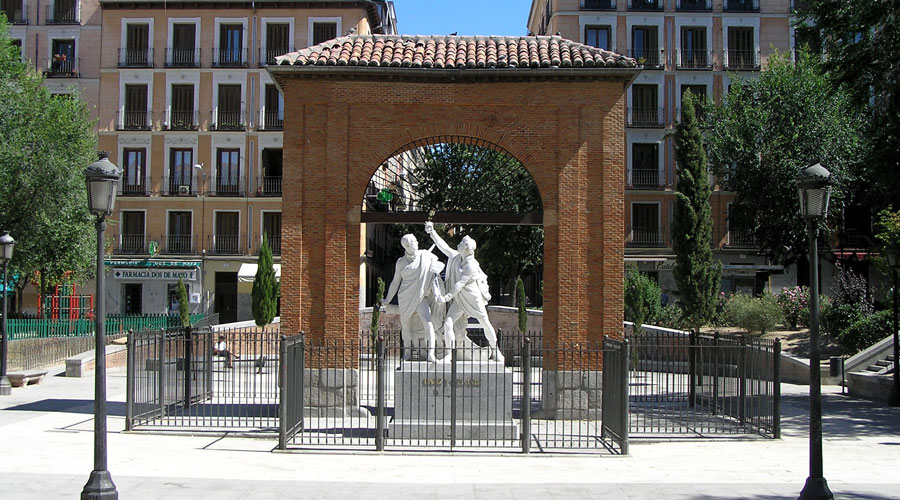 malasana neighbourhood
Our guide to spend a perfect afternoon in the district of malasana
Make the most of a sunny day to discover this beautiful neighbourhood and live to the Spanish rhythm.
A historic morning
Explore the Museum of Madrid where you will have the opportunity to learn more about the history of the city.
Enjoy some tapas and explore the neighbourhood from the plaza del 2 de mayo, from the plaza upwards and then head to fuencarral.
Take a lunch break in Saporem and enjoy delicious food.