Flamenco show in Madrid. What is the best tablao?
Flamenco is an art that mixes dance, singing, guitar and percussion. Flamenco originated in the south of Spain and can be seen in many Spanish cities. If you come to visit Madrid we advise you to reserve your place to attend a Flamenco show. In order to avoid booking your seats in a tourist flamenco tablao without soul we have made a selection of the best addresses.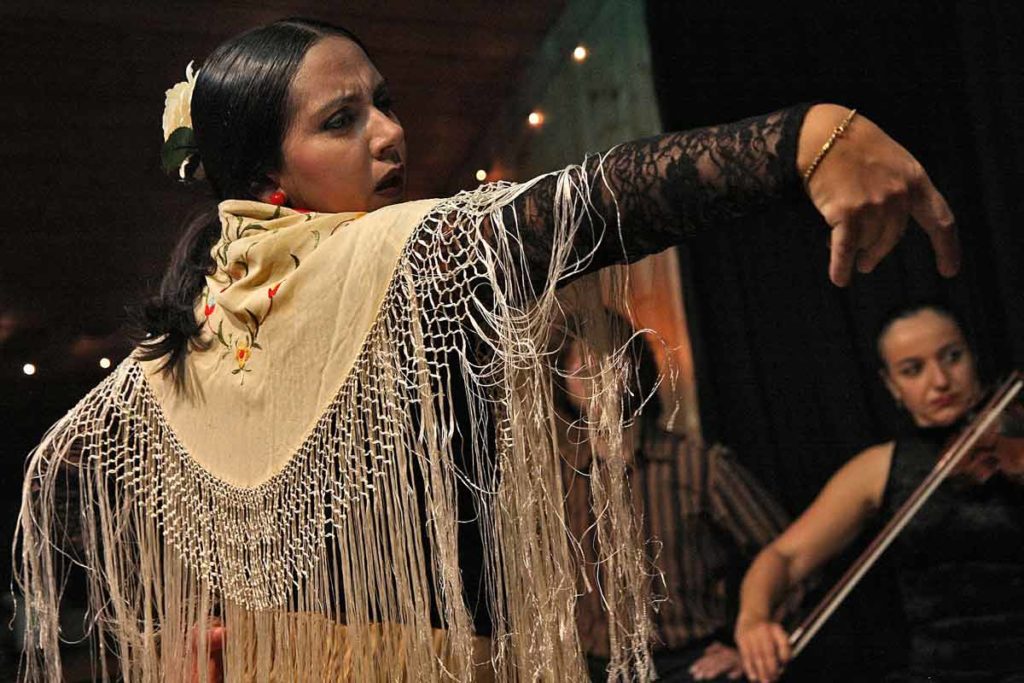 The best flamenco tablao in Madrid
Which flamenco show to choose in Madrid? Where to see flamenco in Madrid? Which tablao flamenco to choose? Many of you have asked us how to choose a flamenco tablao in Madrid and which is the best tablao in the capital.
After having made the tour of the flamenco bars in Madrid we have selected a particularly authentic address, Sala Temple. This flamenco tablao in Madrid welcomes the best dancers and singers of the capital.
Sala temple, how to book your flamenco show?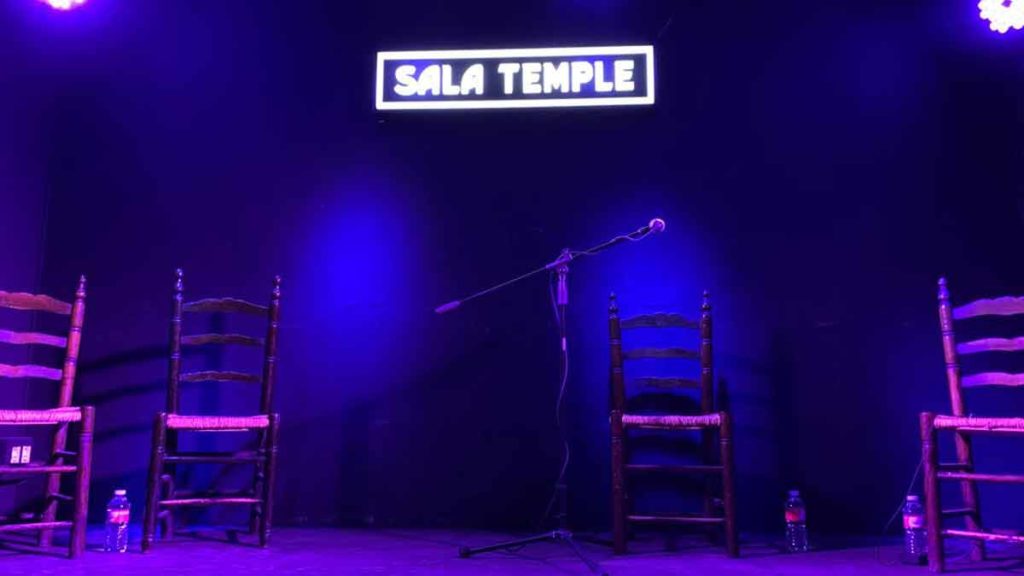 To book your tickets to attend a flamenco show in the authentic flamenco Sala Temple, we advise you to go directly to their website. In addition to having low prices you will be able to enjoy discounts. If you have any questions about the show, don't hesitate to contact them, they will answer you quickly.
DISCOVER THE FLAMENCO SHOW OF THE TABLAO SALA TEMPLE

Easy and fast you will be able to book your show in just a few clicks. Their reservation system is regularly updated as well as the programming of the shows. In addition to offering flamenco shows it is possible to attend small concerts.
What is included when you book your tickets for this flamenco show:
1h30 show (with a 15 min break).
One drink included in Offer 1 (flamenco show + drink / person).
One drink and one meal included in Offer 2 (flamenco show + drink + meal / person).
Offer 2 allows you to enjoy a light meal while you attend the flamenco show. It is also possible to take Offer 1 and add rations and tapas during the show.
The advantage of Sala Temple is the atmosphere after the show. In most flamenco tablaos in Madrid
You want to privatize the room for a team building, a flamenco evening with friends? Do not hesitate to contact us and present us your project, we will propose you a unique experience.
Where is the flamenco tablao Sala Temple located?
Sala Temple Flamenco Tablao is located just a few minutes away from Plaza de España and Principe Pio metro station. It is very easy to get there by foot, bus, metro or cab. All the information about the tablao can be found on their website.
Don't miss the best flamenco show in Madrid
We go regularly to this flamenco tablao to have a good time, unlike the flamenco tablaos in Madrid you will not go to see a prepared show that is played all year round. Sala Temple offers flamenco shows based on the improvisation of the dancers and singers. So you can go every week and live a different experience with unique shows.
DISCOVER THE FLAMENCO SHOW OF THE TABLAO SALA TEMPLE

Flamenco en vivo in Madrid, feedback and opinion
During a trip to Spain it is more than advisable to attend a Flamenco show, this art is part of the culture as well as the Spanish gastronomy. We advise you to inquire about this tablao and to reserve your tickets in order to live a unique and unforgettable moment.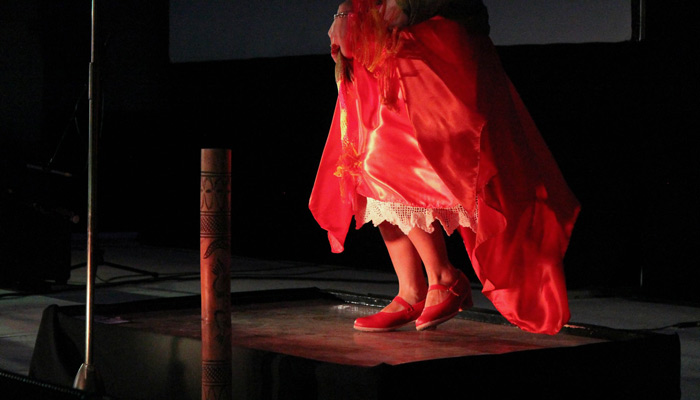 Flamenco classes Madrid - Organize a customized event
Sala Temple also offers flamenco classes, ideal for a team building activity or an activity to do during your stay in Madrid. Please contact us and let us know about your project, we will get back to you as soon as possible to offer you a unique experience.
Flamenco course in Madrid
If you wish to participate in a flamenco course in Madrid we advise you to contact flamenco schools in order to know the modalities and schedules.
Do you want to buy flamenco clothes and accessories during your stay in Madrid? Discover the most famous store in Madrid, Don Flamenco Madrid. You will find everything you need.
Don flamenco madrid store
Cardamomo the most famous flamenco tablao in Madrid
Located in downtown Madrid behind the Puerta del Sol this tablao is one of the most famous in the capital.
This tablao has been in existence for more than 25 years and is unanimously acclaimed by the spectators. The New York Times voted it the best tablao in Madrid.
The singers and dancers who perform every night are very good and are among the best in their discipline.
Count around 30€/40€ for a show with consumption.
Address: Cardamomo, Calle Echegaray 15, Madrid, Spain,
Telephone: +34 918 05 10 38
El Corral de la Moreria is the oldest flamenco tablao in the Spanish capital, they have been performing since 1956, more than 60 years.
The tablao offers daily performances with optional dinner. For more information about the performances do not hesitate to visit their website to see the program of their show, they regularly invite famous artists to perform.
You will find a very good restaurant and the possibility to eat while attending the show.
The price of the meal + show is 47€ for the show + the menu you will choose. Count 49€ for the show and one drink.
Address: Corral de la Morería, Calle de la Morería 17, Madrid, Spain,
Telephone: +34 913 65 11 37
Tablao flamenco in Madrid less touristy
We have previously presented two famous and touristic tablaos of Madrid, there are often crowded, but the shows are of quality. You will find in the next paragraph more intimate flamenco halls with less tourists.
The tablao Bermejas is one of the oldest establishments in the city, founded in 1960 and home to many flamenco artists.
Members of the Spanish nobility, television icons or the Queen of Spain have come to attend one of their shows.
The tablao Bermejas also has a restaurant with a very good menu.
Count 35€ for a flamenco show with consumption. This will cost you between 60€ and 80€ per person for the flamenco show and the meal.
If you wish, courses are offered in a package Course + Meal + Show.
An authentic tablao that will please the whole family.
Address: Torres Bermejas, Calle Mesoneros Romanos 11, Madrid, Spain,
Telephone: +34 915 32 33 22
Founded by a professional flamenco dancer, Café Ziryab is a flamenco room that will not leave you indifferent by his talents.
You will find this tablao in the center of Madrid out of the tourist circuit sold by the big travel agencies.
Much more intimate and warm, you will discover very high quality shows.
A very friendly and professional welcome awaits you. One of the particularities of this tablao is that it offers flamenco classes. Why not let yourself be tempted by a private lesson during your vacations?
Address: Avenida de Filipinas, 54 28003
This tablao is known for its interior decoration focused on the world of Andalusian flamenco. It is located in downtown Madrid near the Gran Via in an 18th century palace.
The shows are of very good quality with very good actors and singers. Café Chinitas offers two shows per day of 90 min. You will have the possibility to eat there.
It is not easy to get a table and we advise you to book a month in advance to be sure to attend the show during this vacation.
The show + consumption costs 43€ and if you want to have lunch it will cost 72€.
Address: Café de Chinitas, Calle Torija 7, Madrid, Spain,
Telephone: +34 915 47 15 02
The tablao Villa Rosa is one of the most popular tabalos among tourists and locals, smaller than the tablaos we have listed so far it will be perfect for a family show. Located in Plaza Santa Ana it will be one of the best options if you stay at the ME Melia.
The shows they offer are of very good quality. The restaurant has a very nice decoration in painted tiles.
To attend a show and to have a consumption count 39€ if you want the meal in addition it will be necessary to pay from 70€ to 90 € according to the chosen menu.
Address: Plaza de Sta. Ana, 15, 28012 Madrid,
Telephone: 915 21 36 89
This article was first published on May 11, 2020. It is regularly updated with news and new activities.