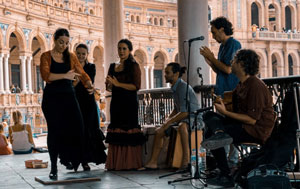 Located in the heart of Spain Madrid brings together a lot of things to do as a family.
Written by Martin, updated on 28/11/2020.
Subscribe to the newsletter to access exclusive content.
The Spanish capital is attracting more and more visitors in search of a unique and authentic vacation. Discover in this article the best flamenco tablaos in Madrid.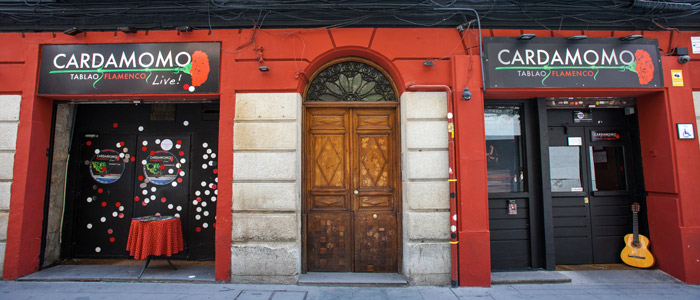 Are you planning to visit Madrid during your future vacations? Your dream is to attend a flamenco show?
There is a wide range of shows available in the capital, to help you choose the best establishment for you we have made a selection of the best establishments in the city.
History of Flamenco
Flamenco shows
Where to see a flamenco show in Madrid
Before you begin, discover the history of this ancestral art originating from Spain. 
Flamenco was created in Andalusia in the 18th century, a mixture of music and dance that was the basis of Andalusian music and mythical Spanish rhythms.
There are many versions on the origin of flamenco, it is impossible to determine precisely where this dance comes from, research accredits the thesis of Andalusia.
Named to the intangible heritage of UNESCO many countries like Guatemala, Costa Rica and even Japan have renowned dance schools.
Flamenco is composed of three fundamental elements: singing, music and dance. The place where the flamenco shows take place is called tablao, formerly called dancing café.
At the very beginning flamenco consisted simply of a cappella singing without an instrument, then came the guitar (a guitar smaller than a French classical guitar) and the drums to finally welcome a dancer.
During the shows musicians accompany some dancers and a singer who will interpret the song, depending on the size of the tabalo it can have one or more singers.
Flamenco is therefore an integral part of Spanish culture, it has become over the years a must for tourists from all over the world.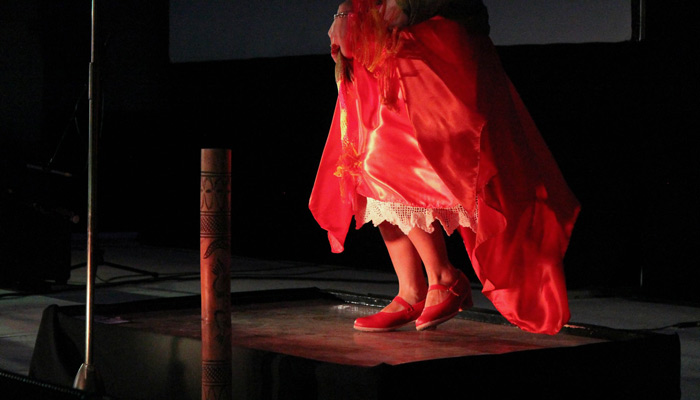 2. Flamenco shows in Madrid
Madrid is a city rich in culture, the capital of Spain and it is here that many flamenco schools have been created to train the best of the discipline. You won't be disappointed when you see the show offer of the city's tablaos.
It is possible to find flamenco shows in specific halls such as tablaos, but also in concert halls.
In this article we will help you find the show that suits you best.
It is common to hear that the flamenco offered in the tablaos is not authentic and is made for tourists.
This is a mistake and many famous flamenco dancers perform every day in Madrid's tablaos.
3. Where to see a flamenco show in Madrid
The best flamenco tablaos in Madrid
Madrid has the peculiarity of having a lot of tablao of very good quality in the city center as well as near the squares and tourist places.
It is important to note that it is necessary to make a reservation for each tablao in this article, flamenco is an art that attracts tourists from all over the world, but also Spaniards who like to spend an evening with friends in a good tablao. Shows are often sold out.
Cardamomo the most famous flamenco tablao in Madrid
Located in downtown Madrid behind the Puerta del Sol this tablao is one of the most famous in the capital.
This tablao has been in existence for more than 25 years and is unanimously acclaimed by the spectators. The New York Times voted it the best tablao in Madrid.
The singers and dancers who perform every night are very good and are among the best in their discipline.
Count around 30€/40€ for a show with consumption.
Address: Cardamomo, Calle Echegaray 15, Madrid, Spain,
Telephone: +34 918 05 10 38
El Corral de la Moreria is the oldest flamenco tablao in the Spanish capital, they have been performing since 1956, more than 60 years.
The tablao offers daily performances with optional dinner. For more information about the performances do not hesitate to visit their website to see the program of their show, they regularly invite famous artists to perform.
You will find a very good restaurant and the possibility to eat while attending the show.
The price of the meal + show is 47€ for the show + the menu you will choose. Count 49€ for the show and one drink.
Address: Corral de la Morería, Calle de la Morería 17, Madrid, Spain,
Telephone: +34 913 65 11 37
Tablao flamenco in Madrid less touristy
We have previously presented two famous and touristic tablaos of Madrid, there are often crowded, but the shows are of quality. You will find in the next paragraph more intimate flamenco halls with less tourists.
The tablao Bermejas is one of the oldest establishments in the city, founded in 1960 and home to many flamenco artists.
Members of the Spanish nobility, television icons or the Queen of Spain have come to attend one of their shows.
The tablao Bermejas also has a restaurant with a very good menu.
Count 35€ for a flamenco show with consumption. This will cost you between 60€ and 80€ per person for the flamenco show and the meal.
If you wish, courses are offered in a package Course + Meal + Show.
An authentic tablao that will please the whole family.
Address: Torres Bermejas, Calle Mesoneros Romanos 11, Madrid, Spain,
Telephone: +34 915 32 33 22
Founded by a professional flamenco dancer, Café Ziryab is a flamenco room that will not leave you indifferent by his talents.
You will find this tablao in the center of Madrid out of the tourist circuit sold by the big travel agencies.
Much more intimate and warm, you will discover very high quality shows.
A very friendly and professional welcome awaits you. One of the particularities of this tablao is that it offers flamenco classes. Why not let yourself be tempted by a private lesson during your vacations?
Address: Avenida de Filipinas, 54 28003
This tablao is known for its interior decoration focused on the world of Andalusian flamenco. It is located in downtown Madrid near the Gran Via in an 18th century palace.
The shows are of very good quality with very good actors and singers. Café Chinitas offers two shows per day of 90 min. You will have the possibility to eat there.
It is not easy to get a table and we advise you to book a month in advance to be sure to attend the show during this vacation.
The show + consumption costs 43€ and if you want to have lunch it will cost 72€.
Address: Café de Chinitas, Calle Torija 7, Madrid, Spain,
Telephone: +34 915 47 15 02
The tablao Villa Rosa is one of the most popular tabalos among tourists and locals, smaller than the tablaos we have listed so far it will be perfect for a family show. Located in Plaza Santa Ana it will be one of the best options if you stay at the ME Melia.
The shows they offer are of very good quality. The restaurant has a very nice decoration in painted tiles.
To attend a show and to have a consumption count 39€ if you want the meal in addition it will be necessary to pay from 70€ to 90 € according to the chosen menu.
Address: Plaza de Sta. Ana, 15, 28012 Madrid,
Telephone: 915 21 36 89
This article was first published on May 11, 2020. It is regularly updated with news and new activities.